This is an IHRSA featured article, brought to you by Digilock.
Is Your Locker Room Harming Your Gym Brand?
Learn how to provide a high-end locker room experience without breaking the bank.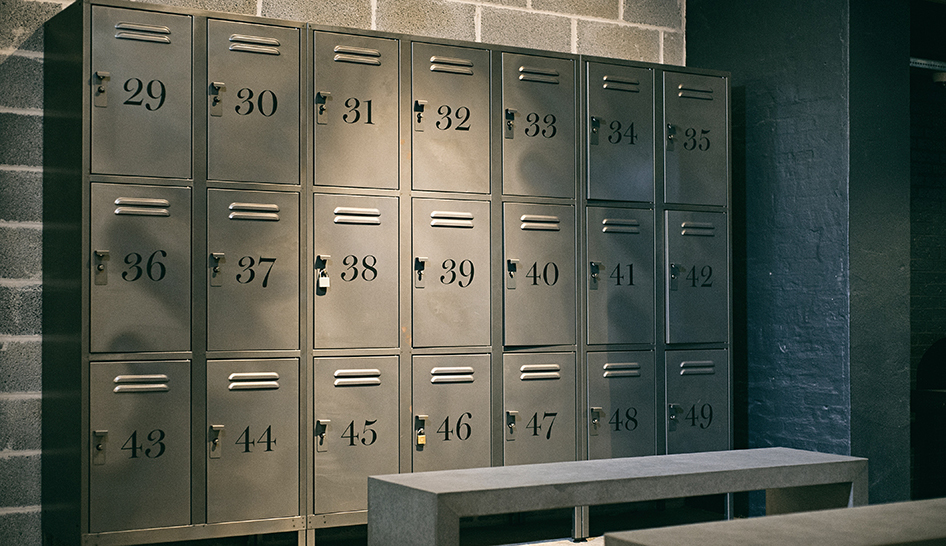 You may not realize it, but your locker room may be hemorrhaging your gym's retention rate. While it may not seem like a priority to some health club operators, the quality of the locker room experience can be closely tied to how members value your overall brand. This is more pressing if your membership is heavily comprised by businesspeople and women—groups that tend use locker room services more than other demographics.
Locker rooms are a vital part of the health club experience, though it's often an afterthought. Besides the cleaning staff, many club employees rarely have reason to venture into the locker room, and owners and operators have other priorities. But while you may provide a tremendous value everywhere else in your club, a poor locker room experience can alienate members and harm retention.
Here are three questions to ask when assessing your club's locker room environment:
Is Your Locker Room Large Enough?
According to experts, if you have a typical health club, your locker room is likely 12-15% of your overall club space. Chances are, you're already set on your locker room size, unless you're planning a major redesign. But retrofitting may make sense if it's deficient for your membership.
"The bottom line is that club owners should guarantee that there will be a locker available for every member who walks through the door at any given time of the day, and that members can change comfortably in the space provided," says Fred Hoffman, M.Ed., owner of Paris-based Fitness Resources Consulting Services.
That's especially true if you want members to return.
"A dismal locker room experience will send a subtle message to members: 'Come dressed to work out because you will not enjoy using our locker rooms.' You will not need as many lockers under this scenario," says Hervey Lavoie, architect and president of Ohlson Lavoie Collaborative. "Conversely, a wonderfully comfortable and enriching locker room environment will encourage use and you will need to increase your locker capacity."
You definitely want the latter result.
"A dismal locker room experience will send a subtle message to members: 'Come dressed to work out because you will not enjoy using our locker rooms.'"

Hervey Lavoie, Architect and President

Ohlson Lavoie Collaborative, Denver, CO
Is Your Locker Room Secure Enough?
This can be an especially frustrating issue for club operators who have to balance privacy concerns with protection against theft. A well-trained staff at the front desk and frequent reminders for members to remain vigilant and leave valuables at home can help. But if your club has problems with locker room theft, you need to act by increasing locker room monitoring and upgrading security systems (more on that below).
Is Your Locker Room Clean Enough?
This is a no-brainer. According to an IHRSA report, 90% of members are likely to renew their membership if a club is "perceived to be extremely clean." And this assessment of a facility's cleanliness is centered in restrooms (75% of members) and locker rooms (68%).
While you need to address these three issues, a lot of other factors can play into a member's perception of a locker room as an inviting environment that they'll associate with your brand. And this is where things get interesting.
Your Locker Room Isn't Aa Liability—It's an Opportunity
Amenities and service are more important than ever for businesses, and that includes health clubs. According to a Salesforce research report, "81% of consumers are more likely to give a company repeated business after good service." And that leads to tangible results. Says the report: "Companies that prioritize the customer experience generate 60% higher profits than their competitors."
Consumers across the board expect a better service environment these days, and clubs are increasingly under pressure to provide it. One reason for these higher expectations is the allure of the fitness studio experience. Boutique clubs make up 42% of the U.S. market and that number is growing every year. While traditional health clubs are finding ways to compete against studios with functional fitness, group training, and other specialized programming, the aesthetic appeal and luxury perks that are part of many studios are expensive to replicate.
Traditionally, health clubs had a simple calculus for service and amenities: the more expensive the membership, the more services provided. Members who reside in upper income brackets expected the extras that higher fees promise, and clubs delivered.
While customer expectations are different for high-traffic budget gyms, creating a better user experience can provide tremendous retention benefits for fitness facilities across the spectrum. This is where an upgraded locker room environment can make all the difference. By making targeted, cost-effective improvements, you can create a high-end user experience at an affordable price.
How to Create a High-end Locker Room Experience
An upgraded locker room can significantly enhance your brand. And if you can enhance your security and improve aesthetics at the same time, you'll be able to compete better against boutique studios that have spacious, spotless locker rooms with tons of extras.
Digilock has made it their mission to bring these advantages to health clubs of all sizes. A global leader in delivering high-performance electronic locking and security systems, Digilock specializes in presenting customizable solutions for clubs looking for increased security while enhancing locker room aesthetics—and does so at an affordable price.
Digilock offers numerous versatile electronic security solutions for clubs, including their new rollout, the Range product line. Available in a number of different body styles and interfaces, Range locks can integrate into any type of fitness facility and offer great flexibility for clubs undergoing retrofitting. Range locks are engineered for multi-use functionalities and are easy to install and manage.
Range is part of Digilock's existing NextLock line, which includes Axis motorized locks, Cue motorized locks, Sola camlocks, and Classic camlocks, as well as several mechanical options. NextLock locks are designed to provide users with state-of-the-art security for any application and budget. Sleek and efficient, these innovative locking systems offer high-level keyless technology in an attractive design that will appeal to consumers of all ages.
Improvements in locker room design, security, and integrity can make a huge difference in your membership retention. Ask Digilock how they can help you create an extra level of security along with an appealing contemporary aesthetic to enhance your locker room environment.