The Fitness Formula Factor: Standing Out in the Chicago Market
Gale Landers' business algorithm has turned Fitness Formula Clubs into one of Chicago's dominant health club chains.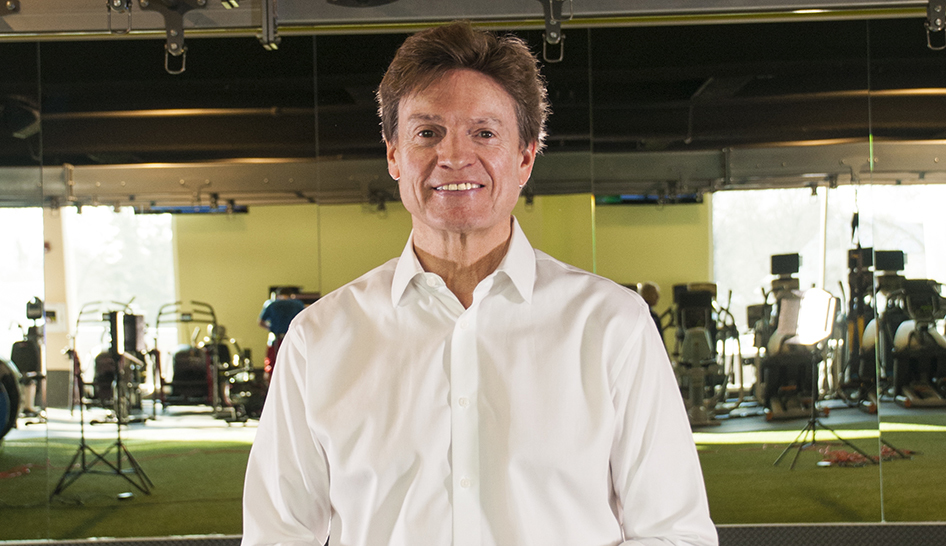 Gale Landers, the co-founder and owner of Fitness Formula, Ltd., makes use of a finely tuned equation—involving a hub-and-spoke strategy, standardized facilities, and close attention to the right metrics—to develop and operate great clubs in Chicago, one of the most competitive markets in the country. He's currently at 10 clubs, and he's still counting.
Club Business International spoke to Gale about the delegating tasks, the importance of saying 'no,' and his business' unique operating platform.
CBI: You've been in business since 1984, and, thus far, have opened 10 impressive facilities, and have an 11th in development. Talk about persistence! What gets you going every morning?
GALE LANDERS: Seeing our staff build communities that enhance the lives of our members and guests by improving their overall health and well-being. ... It's very gratifying on a daily basis.
CBI: Over the years, as your company has grown, which major tasks have you held on to, and which have you been forced—or more than happy—to delegate?
GL: Daily responsibilities were delegated many years ago. I'm fortunate to have several talented senior staff, general managers, and front-line staff who head up our daily operations.
But I make a distinction. Just delegating tasks creates followers; delegating authority creates leaders.
Developing leaders is a high priority for me. Leadership is the ceiling that determines a person's effectiveness. The less ability an individual has to lead, the lower their potential; the greater their ability, the greater their effectiveness.
My other priorities include monitoring the river of cash, maintaining stakeholder relationships, working on strategy and team building, improving systems, developing new locations, and striving to beat mediocrity.
"Just delegating tasks creates followers; delegating authority creates leaders."

Gale Landers, Co-founder and Owner

Fitness Formula, Ltd., Chicago, IL
CBI: How do you manage what we'd imagine are the inevitable conflicts between your personal and professional lives? How do you achieve a balanced life?
GL: I've learned to say "no." It's often the hardest word to say in the English language. No one can be Obi-Wan Kenobi, the legendary Jedi Master.
CBI: Speaking of balance, what sort of role do exercise, nutrition, etc., play? Describe, if you would, your health and wellness regimen.
GL: It's usually a combination of cardio in two or three modalities for 30 minutes, which allows me to catch up on my reading—including CBI; strength training a couple times per week; occasional Pilates apparatus training; and muscle activation technique (MAT) with personal trainer Skip Chapman, my longest-tenured teammate in the company. On the nutrition side, I moved largely to a plant-based diet a few years ago, and found that works well for me.
CBI: And what's the 'formula' for success that you've utilized so effectively with FFC?
GL: Our operating platform is unique in Chicago. It's a hub-and-spoke strategy with two downtown clubs adjacent to the two largest Metra commuter train stations, and the other eight locations within steps of bus and subway transportation centers. This pushes cross-use of our network, driving up member value.
Each location offers two or more hours of free parking, positioning our clubs as ultra-convenient and premium quality, at a mid-price point. When we're fully staffed and have fully trained people who can deliver our brand promise through our Core Values—we thrive.
We refer to this internally as OVP—an "overwhelming value proposition."
While we'd like to think of all of our facilities as impressive oases, they only become a "home away from home" for members because of our staff.
CBI: What's the Chicago market like these days? How does it differ from other major markets in the U.S.?
GL: Chicago has just about every fitness option imaginable in a major metropolitan city. It's also driven by Midwestern values, and our company's core values align well with those standards. By remaining regionally based, we're able to stay focused on a singular market.
CBI: Could you describe one of your typical clubs—its size, the types of programs it offers, the clientele it targets, etc.?
GL: Eight of our 10 clubs are located in the city, and the other two are in walk- able "urban suburbs" that sit near the Chicago border.
They vary in size, but our "sweet spot" is around 50,000 square feet, with specially constructed, dedicated studios for signature group strength, cardio, and dance classes; a mind/body studio for heated yoga; an FFC Spin Theatre studio; and a studio for Pilates apparatus training. An open area, turf-based Performance Training Center—for individual use, personal training, and high-intensity classes and metabolic conditioning options for groups of
eight to 20—is now a staple.
Additional offerings include endurance training; spa services; rock climbing; indoor and, sometimes, outdoor pools with sundecks and splash bars; a gymnasium for basketball, volleyball, and pickleball courts; a Kids Club; and our self-operated café and juice bars, branded as "Local '84"—a reference to the year I founded FFC. We locally source all of the cafés' ingredients whenever possible.
The locker rooms are upscale and full service.
Given our locations, we generally attract working professionals and their families.
CBI: You're one of the few owners we know who operates a club in a railroad station. Tell us a bit about that location and what makes it unique.
GL: The club is elevated above the Union Station train tracks in Chicago's financial district. Convenience drives usage, and this was the first of our two downtown "hub" locations. The building is a former commodities trading facility, which sat vacant for many years before we con- verted it into a 70,000-square-foot FFC.
CBI: As for new clubs, you're currently in presales with your 11th location. What's it like? And do you enjoy developing clubs?
GL: Developing a new club is the most exciting part of the business for me. It brings a lot of energy to the company and offers opportunities for our staff. It's so gratifying to create jobs and have a positive impact on thousands of lives.
This club will be located in downtown Elmhurst, a near-west Chicago suburb. As we did for the first time with our 10th unit, we're building from the ground up, and will own the real estate. This FFC will be similar in size and scope to our other properties.
But the facility is just the entry ticket to the game. As I mentioned, making it that "third place" for members and creating a "new community"—both require leadership from our senior team and the onsite management.
CBI: How about FFC itself? How large a company is it in terms of number of employees, number of members, annual revenues, etc.? Do you make use of a single business model, or several?
GL: We have approximately 1,000 employees and tens of thousands of members across our 10 locations. Revenue is up 50% from five years ago. We make use of one model, with the local neighborhood market impacting actual size and offerings.
CBI: What sort of metrics does
FFC strive for with respect to
such things as new member sales, nondues revenue growth, member retention, and profit margin?
GL: New membership sales are projected based on year-over-year performance, the current market conditions, and the maturity of the club.
Revenue per square foot, earnings margin, member retention, occupancy costs per square foot, and production per full-time staff equivalent are some primary metrics that we follow closely. We strive for a 75%-plus retention rate in our suburban clubs and a bit less in the city, where the population is much more transient.
Secondary revenue streams make up over a third of our revenue. The most central financial metric for us is profitability, not market share.
"Developing a new club is the most exciting part of the business for me. It brings a lot of energy to the company and offers opportunities for our staff. It's so gratifying to create jobs and have a positive impact on thousands of lives."

Gale Landers, Co-founder and Owner

Fitness Formula, Ltd., Chicago, IL
CBI: Over the years, you've survived some tough times, and,
in fact, made three acquisitions during the last recession when other clubs were going under. How did you manage to do so?
GL: A recession comes along every so many years. We plan during the good times so that we're prepared for the tough ones. To do so, we manage the river of cash, setting up our balance sheet so our percentage of overall assets gives us the ability to take advantage of opportunities that may arise. Being privately held has certain advantages; we don't, for instance, have the same expansion and financial pressures that outside-investor-controlled and publicly traded companies may have.
CBI: Let's go back a bit now—how did you happen to get involved in the fitness industry?
GL: I was hired straight out of college as a general manager for a club that was a mess. There was no playbook back then.
However, the fitness industry was just starting to migrate from paid-in-full memberships to monthly dues via electronic funds transfer. We made that conversion, and the club went from negative to positive cash flow. At about the same time, I met John McCarthy, then the executive director of IHRSA, who had valuable lessons to share. Early on, IHRSA's educational benefits and the rich networking it offers paid off.
CBI: Tell us a bit, if you would, about your very first FFC club.
GL: Our Gold Coast location was our first within FFC. The construction of the mixed-use building where the club is located was delayed due to the savings and loan crisis of the early '90s. Eventually, the landlord delivered 58,000 square feet of space, but I had to raise about $3 million to finish the club.
Doing so took visits to eight banks before I got a "yes" on the debt portion, as well as conversations with just over 200 potential investors. A small handful of the 200 went in with me on the
equity side as limited partners, totally uninvolved in the business. Many of those in this initial investor group have reinvested multiple times as limited partners in our successive locations.
We haven't needed to take in any new investors for many years.
CBI: FFC is privately held, but who, exactly, are we talking about? Tell us something about the ownership structure of the company.
GL: I'm the sole owner of Fitness Formula, Ltd. (FFL), the parent company. Each club is a separate limited liability company (LLC), of which I'm the general partner. While there's no board of directors, I'm blessed with limited partners who've been an incredible source of information and wisdom.
CBI: Two things that differentiate FFC in Chicago are its medical orientation and affiliations. Bob Nagy is your director of medical services. His background? His role?
GL: Bob joined FFC with many years of experience in the pharmaceutical and preventative health industry, working directly with medical systems and physicians. His role with FFC is to develop a new revenue stream by establishing pathways for medical referrals to support patients in need of lifestyle change, as it directly relates to fitness and nutrition. We've added staff registered dietitians and introduced medical nutrition therapy, which is often insurance-reimbursed, to bolster this effort within our clubs.
CBI: We understand that FFC
is involved with more than six different medical organizations. How did you establish these relationships? How do they work?
GL: Doing so takes time and persistence. Each party involved meets different needs to support patient health and improve outcomes.
Most of our clubs have a physical therapy tenant, which drives traffic that's often nonmember and doctor-referred.
Some patients join FFC, and many of our members use the therapy services.
Also, a leading local hospital has provided cardiac rehab services at one of our facilities for years. Often their clients become members and form their own "tribe." A third hospital is a tenant at one of our clubs, and we work with several of their departments.
CBI: And the future? Will you open clubs beyond Chicagoland, or launch new brands? What's Gale Landers dreaming about now?
GL: I've been asked to look elsewhere many times, but I'm not interested. FFC constantly strives to get closer to great, and farther away from good. Being big and being great are different concepts. Our mission will always be to own and operate superior clubs and to deliver outstanding results.