3 Key Insights from Personal Training Clients
Our research expert explains findings from IHRSA's Fitness Training Report, which analyzes personal training clients across demographics.
Personal training is typically the top profit center among most health clubs. According to IHRSA's Profiles of Success, leading club companies report that a median of 8.4% of total revenue is derived from personal training. And, based on data from leading clubs, only membership sales account for a greater share of total revenue than personal training.
Considering the importance of personal training, IHRSA's new Fitness Training Report provides in-depth data and analyses of personal and small group training users. Overall, more than 8.3 million health club consumers used a personal trainer in 2016, representing 12.6% of total club consumers.
To help maximize the potential of this profit center, our new report highlights three key insights (among many more) from personal training clients.
1. Personal training clients are more likely to be male.
In 2016, 54% of personal training clients were male. Historically, personal training participation has been an even split among male and female health club consumers. However, the growth of small group training (SGT) may have contributed to an increase in the market share of men for personal training participation since women are slightly more likely to participate in SGT than men.
As a club operator, you can develop strategies to continue attracting men to engage in personal training and to encourage female participation in one-on-one instruction. Ensure your department is staffed with trainers having expertise in helping clients with goals common to your consumers. For example, if your club targets highly active members with athletic goals, be sure to staff fitness professionals with training and experience in sports-specific conditioning that can tailor a customized program based on a client's individual health and exercise history.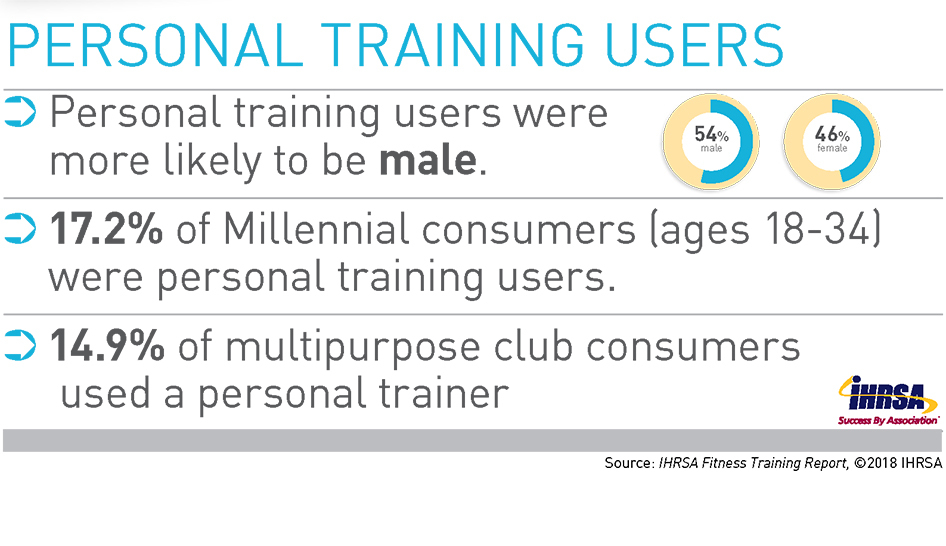 2. 17.2% of Millennial consumers are personal training clients.
Millennial club consumers had the highest participation rate for personal training in 2016 as 17.2% of consumers between the ages of 18-34 indicated using a personal training. More than 3 million Millennials engage in personal training, accounting for 39.6% of total users.
While it's clear Millennials represent a profitable target market highly inclined to buy non-dues services, keep in mind other generational groups when developing and promoting your personal training department. There are also opportunities to engage Generations Z and X as well as Boomers into personal training considering their unique health needs and fitness goals.
3. 14.9% of multipurpose club consumers use a personal trainer.
Among full-service fitness centers, multipurpose clubs had the highest participation rate of personal training as 14.9% of multipurpose consumers used a personal trainer in 2016. By comparison, 11.6% of fitness-only club consumers used a personal trainer and only 7.2% of YMCA/YWCA/JCC consumers used a personal trainer.
Although multipurpose clubs lead full-service centers in attracting consumers to utilize personal training, participation rates lag behind studios. On average, roughly one out of five studio consumers are personal training clients (20.9%). It's understandable studios would have higher participation rates in private training as their business models are focused on specialized instruction.
Still, full-service club operators can explore ways to increase participation in private training. Since full-service clubs are often community pillars, being known for having a stellar personal training department can make a full-service club the go-to option for consumers seeking individualized exercise programming.
For more on personal training clients, you can access a free excerpt of the IHRSA Fitness Training Report.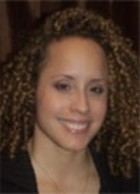 Melissa Rodriguez is a Market Research Advisor for IHRSA. When she's not analyzing data and statistics, Melissa enjoys spending time with family, watching superhero series, poring over NBA and NFL box scores, and reading a good book.