Blink Fitness Social Media Campaign Celebrates Members with Disabilities
The video series features Blink members and staff with disabilities discussing how they push themselves to be stronger and happier through exercise.
Blink Fitness' new social media campaign, "All Bodies Are Able Bodies," aims to celebrate real members with disabilities, according to a release. The effort includes a series of videos in which Blink members and staff share what having a disability means to them, how it has positively impacted their lives, and how they push themselves to be stronger and happier through exercise.
"At Blink, we are always inspired by our members who have played an important role in helping us build the open and welcoming environment that we have," said Blink Fitness President Todd Magazine. "We are proud to nurture these relationships and continue to work toward making Blink the best we can be for every body."
The 70-club chain, which has long championed positive body image through its "Every Body Happy" platform, recently earned the Title III ADA Sapolin Accommodation Award from Mayor de Blasio and the Mayor's Office for People with Disabilities for being Americans with Disabilities Act (ADA) compliant.
"Blink Fitness has shown a true commitment to embracing and advancing New Yorkers with disabilities," said Commissioner of the Mayor's Office for People with Disabilities Victor Calise. "Everybody deserves a space where they can safely and independently exercise. Blink is that space and we're honored to present this award to them."
The award inspired the "All Bodies Are Able Bodies" campaign as a way to showcase members who are defying the odds and maintaining physical fitness while living with disabilities.
"This award from the Mayor's office is not only an honor for us, but it also gives us an opportunity to say 'thank you' and shine the spotlight back on our incredible members," Magazine said.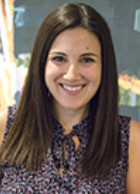 Marianne Aiello is the Senior Digital Content Manager for IHRSA. While her average day includes writing articles, monitoring social media, and crafting IHRSA's digital strategy, the best part of her job is covering IHRSA events across the globe. When she's not at work, you'll find Marianne at an indoor cycling class or, more likely, binging on Netflix.