Fitness Industry's Road to Revival Leads to IHRSA 2021
The 40th Anniversary International Convention & Trade Show may be the most important event IHRSA has held. Learn how things are ramping up for a memorable three-day event this September.
For the hundreds of companies that supply all the goods and services that power the fitness industry—now is the time to plan to capitalize on what promises to be a robust recovery this fall.
The best place to do so is at the IHRSA 40th Anniversary International Convention & Trade Show (IHRSA 2021) in Los Angeles this September. IHRSA 2021 won't just be a trade show, but a gathering of the global health and fitness community. Don't miss your chance to participate in celebrating the industry's revival with the leaders that have done so much to help our industry survive and safeguard its future.

"As we emerge from the craziness of 2020, this year has amazing growth potential for our industry," shares Daron Allen, president and CEO of VFPnext. "This is the greatest member grab opportunity—likely ever—and making sure to be up to speed on the best ways to take advantage is key. 2021 or as I like to say '2020-WON' is our opportunity to come back strong post-pandemic and really drive revenue in the second half of the year!"
From March 2020 to March 2021, what some people have called the annus horribilis (a Latin phrase meaning "horrible year"), we, as an industry, learned just what we were made of. IHRSA and its members took action. Clubs helped their communities and members cope by reaching out to give them tools to stay active and healthy. The good news today is that there is a light at the end of the tunnel—and the road to revival leads to Los Angeles on September 20-22.

"As conditions continue to improve in the United States and Asia-Pacific regions, clubs are seeing renewed interest from consumers on improving their health and returning to their fitness activities," says Jay Ablondi, IHRSA's executive vice president of global products. "The number of vaccines distributed is growing exponentially each week, which is boosting optimism that a return to a 'new normal' will be here by the second half of 2021."
A Revival at the IHRSA Convention
IHRSA 2021 will not just be a health and fitness convention. It will be a celebration of the revival and perseverance of our industry. In fact, it is likely to be the first large in-person gathering for our industry in more than a year.
"It's early days, but IHRSA has already received commitments from nearly 100 industry partner companies who are planning to exhibit," says Ablondi. "There is excitement building toward getting everyone back together and of course, back to business!"
Jeff VanDixhorn, CRO at Club Automation, Motionsoft, CSI Spectrum, attests to that. "We are excited to see everyone again at IHRSA 2021!" he says. "In addition to catching up with old friends, like many others, we met some incredible people through virtual events and roundtables. We can't wait to finally connect with these individuals in person at IHRSA! Post-pandemic, there is so much potential for our industry. The timing of IHRSA couldn't be better to seize this opportunity and drive growth in the second half of the year."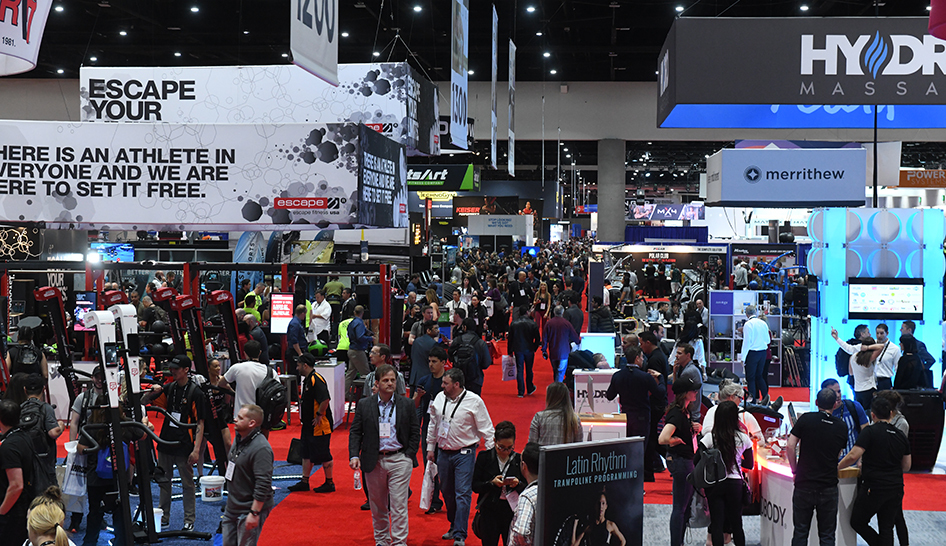 The crowd at a previous IHRSA Convention.
40 Years of Fighting for the Fitness Industry
IHRSA 2021 is more than an industry event. It is 40 years of fighting for the fitness industry and helping health clubs and suppliers succeed. It is a chance to gather together and discuss the challenges we are facing, as well as make plans for the future. It is an opportunity to celebrate the innovations created by businesses facing unprecedented difficulties, and learn from their successes in the face of great adversity.
We understand how difficult the past year has been for our exhibitors. We are deeply grateful for their continued support, and many have also volunteered their valuable time to help IHRSA evaluate how to better serve our members and the industry at large. We recently rebranded our "Supplier Membership" to Industry Partners. This is a better description of just how important they are to the success of our industry and IHRSA's mission.
While virtual offerings are popular, the health club industry is still very much built on in-person services and fostering the feeling of belonging to a community. September will be a chance to bring our community together once again.

Attending IHRSA 2021 is a commitment to proving the industry is ready to do business again in person. It is a commitment to look ahead to better times and strengthen the relationships within our industry. As we fight to keep health clubs open, it is an affirmation that we can connect on a personal level safely when proper regulations are followed, just as health clubs can safely remain open and serve their members. In fact, more than 1,600 IHRSA members globally have taken the Active & Safe Commitment, an initiative reaffirming the health club industry's unyielding dedication to safety.
The Fitness Industry Is Ready
IHRSA is now accepting contracts and deposits to exhibit at IHRSA 2021, which will take place September 20-22 in Los Angeles. No one can predict exactly what the future will hold, but with recent positive developments related to the vaccine rollout and declining cases globally, we believe September will be a great time for us to finally come together once again. For those interested, download the Exhibitor Prospectus today to begin the process.
For exhibitors, submitting a deposit now will lock in your selected spot and allow you to secure the best possible booth location. We understand it may be difficult to commit with some degree of uncertainty still ahead, IHRSA is offering full refunds of booth deposits until June 5.
"We understand it may be difficult to commit with some degree of uncertainty still ahead, IHRSA is offering full refunds of booth deposits until June 5."
All companies that commit a deposit to exhibit space in March will be entered for a chance to win one free 10x10 booth, a $3,950 value. Acting now will provide you the best opportunity to take advantage of a return to face-to-face business amid pent-up demand, as well as the opportunity to continue to evaluate the pandemic in the coming months.
IHRSA 2021 is not an event you should miss. We look forward to conversations ahead. Keynote speakers, sessions, and virtual options will be announced as more details are finalized. Stay tuned!

Luke Ablondi is IHRSA's Trade Show Director. He handles exhibitor communications, materials, and logistics for the IHRSA Trade Show. In his free time, Luke enjoys playing guitar, lifting weights, and following sports obsessively.