How Matrix Fitness Became One of the World's Fastest-growing Equipment Brands
With more than 500 commercial products, Matrix Fitness accounts for 67% of Johnson Health Tech's total revenues. JHT CMO Mark Zabel weighs in on Matrix's impressive growth.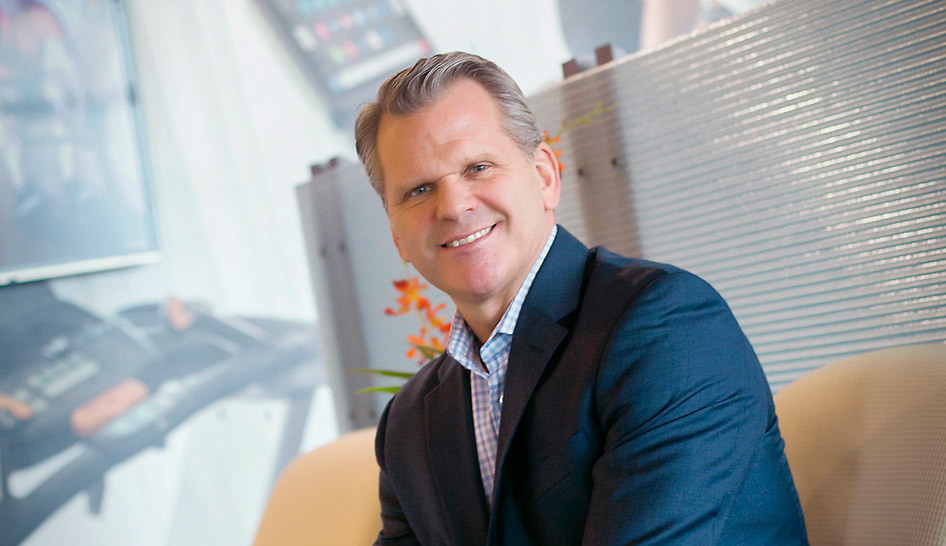 Matrix Fitness, founded in 2001, has quickly become the premiere brand of Johnson Health Tech (JHT), its corporate parent. In 2016, JHT revenues were approximately $625 million. Matrix now offers some 500 commercial products, and accounts for 67% of JHT's total.
A fair share of the credit goes to Mark Zabel, JHT's global chief marketing officer and newly named president of its U.S. commercial division. Zabel recently spoke to Club Business International to discuss Matrix's meteoric growth.
CBI: With a company as large and multifaceted as Johnson Health Tech (JHT), the corporate parent of Matrix Fitness, one requires a road map. A brief description, if you would, of JHT.
MARK ZABEL: Peter Lo, his wife, Cindy Lo, and their business partner, Jean Hung, started the company in 1975 in Taichung, Taiwan, with a simple foundry. Within a few years, they'd expanded their capabilities into other areas and were specializing in fitness equipment.
Since that time, JHT has specialized in the design, manufacturing, marketing, sales, and distribution of award-winning fitness equipment. JHT's corporate headquarters are based in Taichung. Our global marketing and product development headquarters is in Cottage Grove, Wisconsin.
JHT has 26 wholly owned subsidiaries in Europe, the Middle East, Asia Pacific, and North and South America, and over 70 distribution partnerships that serve the commercial and consumer segments.
We have manufacturing facilities in Taiwan, Shanghai, and Wisconsin, with a total footprint of approximately two million square feet, featuring the latest in automation and robotic tools. We have approximately 250 engineers in Asia and the U.S., who focus on new product development and innovation.
Worldwide, JHT currently has 5,662 employees. Last year, it generated $625 million in global revenues.
CBI: And we haven't even touched, yet, on JHT's numerous brands. Which one of them came first?
MZ: Vision Fitness, introduced in 1996, was actually our first product brand. Nathan Pyles, who now serves as the president of JHT's North American subsidiary, established the Vision brand and product portfolio shortly after the Trek Bicycle Company exited the industry in the mid-1990s. At the time, Nathan was working for Trek. JHT, the OEM for Trek's fitness products, acquired Trek's tooling and intellectual property.
Today, our brands include Vision, Horizon, Tempo, Treo, AFG, and Matrix. These product lines have been sold in nearly 100 countries.
CBI: Which brings us to Matrix Fitness. Can you provide an overview of it?
MZ: The Matrix brand was launched in 2001 with a small assortment of cardiovascular and strength products. Kent Stevens, who, today, serves as our executive vice president of U.S. commercial sales, was one of the original Matrix employees. Matrix now offers approximately 500 products that serve the commercial segment, and, recently, we introduced 12 cardiovascular products for the specialty retail channel in the consumer segment.
In the first 12 months after Matrix was born, we generated less than $2 million in revenue. Last year, its gross revenues in the commercial segment were approximately $420 million. Our compounded annual growth rate (CAGR) over the last five years has averaged 16%.
CBI: Exactly how does Matrix fit into the JHT mix?
MZ: With respect to the JHT product and brand mix, Matrix is positioned as our premium professional brand for the commercial segment, and, with our recent entry into the consumer arena, as our premium line in the specialty retail channel.
CBI: If you were asked to briefly describe what differentiates Matrix from the other major manufacturers of fitness equipment, what would you say?
MZ: There are three areas of our business that create value for our customers and our industry. They include our people, our products, and our company.
CBI: Okay, let's take those one by one. People?
MZ: The ideation, creation, production, and execution of a superior customer experience begins with our people. I'm convinced our success is due to the people in our organization who are truly passionate about our industry. We believe their passion, coupled with innovation via continuous improvement, creates a more engaged culture. Our CEO, Jason Lo, the oldest of the Los' three children, frequently observes that continuous improvement is in our DNA.
CBI: Okay, No. 2—Matrix products?
MZ: The breadth and depth of our commercial product line reflects the commercial fitness marketplace. Our industry is highly fragmented. We believe the wide variety of products and programs in our portfolio are all tools that can help our customers successfully differentiate their respective businesses. Our offerings have expanded from traditional cardio and strength products to include group training, technology, and integrated HIIT programming.
CBI: And finally—the company?
MZ: JHT is committed to the development of our people, our customers, and our communities. Content marketing, such as that offered by the online Matrix Learning Center, is just one example of something we've introduced to provide our customers with a free educational resource. It encompasses areas such as technology, product training, equipment service and maintenance, group training and programming, and the business of fitness.
Our corporate philosophy is predicated on promoting health, value, and sharing—not only via our products, but also by giving back to our communities. All of our subsidiaries do so. Here in Cottage Grove, for instance, our people volunteer at an assisted-living center and at local food pantries. Our founder and chairman, Peter Lo, and his family have given back to his childhood home, in central Taiwan, establishing a library and community and learning center that's called Lo Garden.
CBI: Virtually all manufacturers talk about their commitment to innovation—as you've clearly done—but you've pinpointed three factors that make it happen at Matrix. Let's start with the first: Matrix's corporate culture.
MZ: Corporate culture is important to our employees, and it's celebrated— in thought and word—in our communications, and on the walls and halls of all of our buildings. Our corporate culture is based on sincerity, expertise, and initiative.
Sincerity, to us, means that we're committed to acting openly, honestly, and respectfully in our dealings with each another—some organizations call this "straight talk." This is crucial when it comes to global marketing and product development, so we solicit feedback and opinions from different cultures and regions throughout the world.
Expertise reflects our belief that lifetime learning is a prerequisite for continuous improvement—this is the essence of innovation. We learn from other people, not only in our industry, but from those in other sectors as well.
Initiative recognizes that our success depends on positive thinking and a "Yes-we-can!" attitude. Failing early with innovation is a reality, and, as we move forward, it can sometimes test the resilience of people who are passionate about doing and being better.
CBI: And the second: Matrix's development process. What sets it apart?
MZ: As I've indicated, we believe in continuous improvement—a series of little steps that, ultimately, produce a new and discernible benefit for our customers and various stakeholders. Our goal is to improve on the status quo.
For us, innovation initially involves a data-gathering process that begins with our customers. We look to club owners, personal trainers, service technicians, and individual users to identify ways to improve our existing products in order to develop new ones to address unmet needs. We ask questions and reflect on the answers.
We solicit comments and suggestions about our own and other manufacturers' products. We also attempt to learn from other industries—furniture, technology, automotive, consumer electronics, and design-related industries.
We believe the first step in innovation is not to act, but, rather, to listen.
Ultimately, we gather all sorts of feedback and transform it into product enhancements and prototypes. Clearly, not every idea evolves into a prototype, and not every prototype makes its way to manufacturing, but we learn a great deal about what does or doesn't work throughout the entire process.
CBI: And, finally, technology—a rather broad topic. In what unique way does Matrix put it to work?
MZ: We regard technology, essentially, as a tool that helps our customers maximize the return on their fitness equipment investment.
One of our goals is to help trainers connect and engage with members. By using Matrix Connected Solutions, trainers can assign workouts to members, check their progress, and communicate with them via virtually any Internet-connected device, helping them to stay on track and achieve their goals. And our connected equipment increases end-user motivation with the immersive video technology and popular mobile applications that are embedded in our consoles.
Another goal is to provide relevant, real-time equipment data to owners, operators, and service technicians to help them be more efficient and effective. Our commercial customers can track individual equipment activity, anytime and anywhere; obtain summaries of the product's use over time; and monitor percentage of use with respect to capacity. This provides them with valuable insights into usage patterns, and helps them to maximize product life and space utilization.
CBI: Matrix has positioned itself as a "total solutions provider" and manufactures an amazing number of products. Is there anything still missing from the mix? And, with so many products, how do you manage to maintain your manufacturing standards?
MZ: Being a total solutions source requires more than a lot of products. It really comes back to our people and our company, with its trained and dedicated sales representatives, and certified technicians providing technical support. Our customers view us as consultants and partners, who provide them with services such as facility planning, financing, product and service training, and marketing education and support. With respect to product mix, we're constantly evaluating new opportunities
It's also important for us to remain focused on our growth strategies, which encompass our core business; adjacent channels; sub-segmentation, such as group training; and technology. These will help define our product roadmap over the next three to four years, during which we'll be producing a continuous flow of innovative new products.
Obviously, it's also important for our manufacturing leadership team to be aligned with our product roadmap and development plan. We meet frequently to ensure that we're all moving in the same direction; this allows our team to be proactive in terms of planning and implementation.
CBI: Matrix has claimed that, for the past five years, it's been the fastest-growing commercial brand in the world. Without naming names, what do the available statistics show?
MZ: As I mentioned earlier, the Matrix commercial brand has successfully achieved a five-year CAGR of 16%. When we analyze other leaders— $100-million-plus, full-line manufacturers of cardiovascular and strength products—our data shows that 16% CAGR over a five-year period makes Matrix the fastest-growing among those suppliers.
CBI: Technology—okay, we can't get away from it. Interactive equipment, asset management, virtual reality, wearables ... Looking forward, what do you see happening in the industry with respect to the Internet of Things (IoT)?
MZ: We see the IoT becoming more ubiquitous, but, at the same time, more focused. Connected devices will continue to proliferate on both the facility and consumer side. Their adoption by clubs will be driven by their desire to improve business performance. Business intelligence, user behavior, and exercise metrics will begin to inform their decision making as they strive to improve their financial health. The ongoing evolution of technology also will yield new or hybrid business models that will allow clubs to extend their reach or monetize aspects of the exercise experience that were overlooked in the past.
Users, for their part, will be placing an increased emphasis on results, and will demand that devices and apps work with their lifestyles in a seamless, frictionless way.
Finally, while the current generation of wearables and apps provides a great deal of data, they don't synthesize it to produce something valuable and actionable for the user. They also make it challenging for users who want to work across several platforms. In the future, consumers will demand that systems, including the ones used by their clubs, work together and with limited interaction.
CBI: Considering technology from Matrix's point of view, how do you see IoT and the industrial Internet of Things (IioT) affecting the company's manufacturing processes? And dare we even broach the topic of artificial intelligence (AI)?
MZ: Our manufacturing leadership team continues to evolve and improve our manufacturing processes by investing in automation, and by collecting and utilizing real-time data. This data allows us to measure and manage various areas of the business, such as incoming material, inventory, throughput, manufacturing efficiency, supply chain traceability, and order processing. The goal is to save time and money by reducing waste in a way that creates greater value both for our customers and for our organization.
CBI: Recently, UM Holdings, Ltd., formerly the owner of Cybex International, Inc., acquired an 80% interest in Gym Source, the equipment retailer. The following month, JHT purchased eight Busy Body stores. What's up? Tell us a bit about JHT's retail business.
MZ: I can't speak to the situation at Gym Source, but we're very pleased with our acquisition of Busy Body in Southern California. It's part of our larger retail strategy, which is to expand our direct distribution nationally. Today, we have over 100 stores in the U.S. and more than 300 globally, making JHT the largest specialty fitness dealer in the world.