Health Clubs Use 'Net Promoter Score' to Improve Member Experience
See how real clubs are using NPS metrics and reports to inspire staff and improve their members' experience.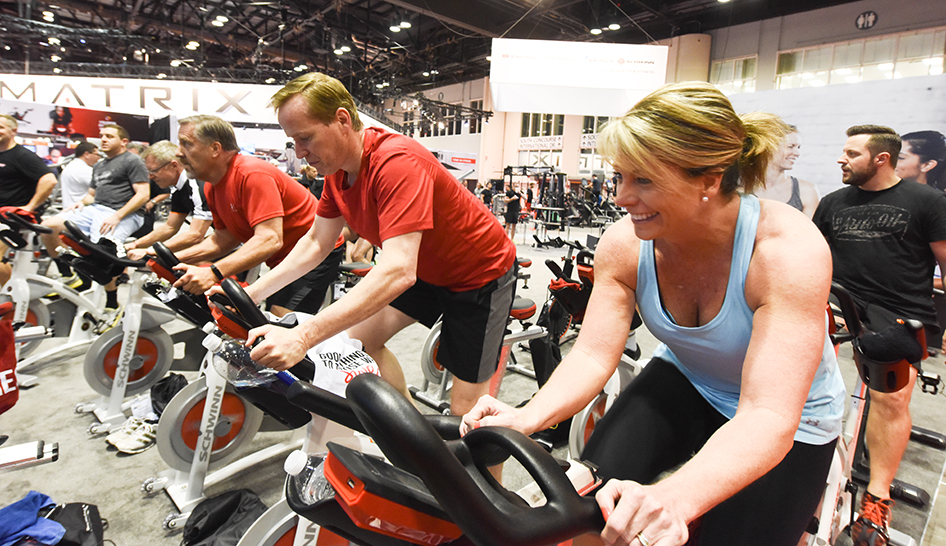 Imagine, for a moment, that every member of your club occupies a seat at your regularly scheduled management meeting. During the session, they offer their candid thoughts about how they feel—either better or worse—on a wide variety of club topics. Things such as which equipment they prefer; why they enjoy one particular cycling class more than others; who their favorite staff members are; and what you, the owner/operator, can do to provide them with an ideal member experience.
Just a pipe dream, right? Not really.
In fact, there is a feasible, technologically facilitated way to have members present, in a manner of speaking, at customer experience meetings, said Chris Werte, the director of marketing for The Retention People North America (TRP). The firm, based in Woodbury, NY, is a customer experience management software and solutions provider for the international fitness industry.
And the answer to the member-in-the-meeting question?
It's called the Net Promoter Score (NPS), a customer satisfaction rating tool that TRP offers.
"The Net Promoter Score is an easy, powerful tool for measuring customer satisfaction and loyalty," explains Werte. "The beauty of it is its simplicity—the way it collects data, and the fact that it provides real-time, actionable insights."
"We've tried various approaches in the past, including different in-house tools, and even having a full-time director of member experience," says Nezar Yaggey, the director of fitness and retention services for World Health, Edmonton, in Alberta, Canada. "Nothing else has provided us with the kind of structure that's inherent in NPS. It's inspired us to empower our staff to spend more time on the floor with members, and to log meaningful interactions into the system. We've also created a member experience training course to supplement our use of NPS. We want to ensure that our staff have all of the tools and resources required to provide 'above and beyond' customer service.
"The revealing NPS metric and the numerous reports that TRP produces are tools we use to inspire and motivate our staff that we didn't have before."
NPS: In Theory
Introduced in 2003, NPS was developed by Fred Reichheld, a fellow at Bain & Company, the Boston-based consultancy, and Satmetrix, a Redwood City, California–based provider of customer experience management solutions. Today, the system is used by customer-loyalty pioneers such as Dell, Apple, Amazon, and Harley Davidson.
Since IHRSA partnered with TRP in 2013, a number of the association's member clubs have found NPS to be an instructive and effective aid. Armed with the results of their NPS assessments, they've been able to identify and solve problems, and capitalize on emerging opportunities, improving both the member experience and the club's performance.
How Does NPS Work? Like This:
Club members are asked one simple question: "On a scale of 0–10, how likely are you to recommend (the club's name) to a colleague or friend?"
Next, each respondent is categorized by group: Promoters, who score 9-10, are loyal customers who will speak positively about the brand and drive growth; Passives, who score 7-8, are generally satisfied, but unenthusiastic, and vulnerable to competitive offerings; and Detractors, who score 0-6, are dissatisfied customers who are likely to stop using the club, speak about it negatively, and impede its growth.
Then, the total percentage of Detractors is subtracted from the total percentage of Promoters to produce the NPS result. For example, if 20% of a club's customers are detractors, and 70% are promoters, the club's NPS is +50. A higher score indicates a healthier business, while a lower one signals the need to take a long, hard look at member satisfaction.
To provide detailed insights, the NPS survey also includes an open comments section that allows individuals to elaborate on why they feel the way they do.
Importantly, TRP's NPS system allows users to access this information immediately, notes Werte: "It's a live, rolling benchmark, which is part of what makes it so powerful." He explains, "As respondents complete the survey, the benchmark automatically updates to reflect the latest score and highlight any trends. The score can also be viewed for a specific time frame, or seasonally to track year-on-year changes."
NPS: In Reality
For the fitness industry, which is constantly striving to improve its member retention levels, high-quality customer feedback is critical, suggests Werte. And, for individual clubs, he says, NPS has proven to be one of the most reliable tools for obtaining solid, relevant data, allowing operators to fine-tune the member experience, increasing utilization, satisfaction, sales, referrals, and retention. Today, he contends, such information is key to a business' growth and profitability.
When Bain & Company studied the correlation between a company's growth and its NPS, it found that, for most industries, its NPS accounted for 20%–60% of its organic growth rate; and on average, industry leaders have an NPS more than double that of their competitors.
To learn more about NPS in action, CBI spoke with Jake Malzahn, vice president of production for Xperience Fitness, a chain of 13 multipurpose facilities in Menasha, WI.
CBI: Why did Xperience decide to track its NPS?
Jake Malzahn: We wanted to give our members the best experience possible, but we didn't have a way to track the results of the efforts we were making in detail and in depth. We'd been using attrition rates and membership lengths to gauge member loyalty; however, these metrics weren't always insightful. NPS is a better, more detailed, representation of our members' happiness.
CBI: Have you seen improvements in your score?
JM: Absolutely. We started a pilot program in 2013 at one location, and then installed the software at all our clubs the following year. Back then, in 2014, our company average was -9. By the end of 2015, it was +43, and increasing every month.
CBI: Is the improvement in your NPS reflected in your clubs' performance?
JM: Yes, in two areas—member experience and employee satisfaction. With NPS, we know what our members want, and, therefore, can serve them better. I can't prove a direct correlation, but I believe NPS has been of significant help in reducing our attrition rate. Now our staff can log on to an online scoreboard daily, and see, in real time, how the club is doing. By virtue of having that scoreboard, our engagement with customers has increased, and our employees go home at night knowing that they've made a difference.