Fitness Pros Share Their Favorite Core Training Programs and Products
Several fitness professionals and equipment manufacturers weigh in on traditional and trendsetting core training products.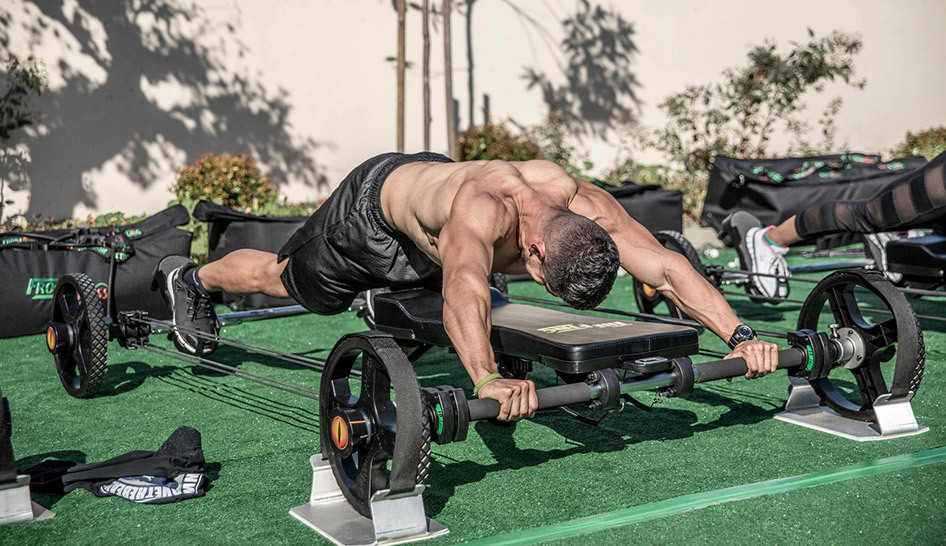 A strong core is essential, and could accurately be described as the "foundation" of fitness.
"The core is where all human movement originates," says Clark Bartram, the president of Frog Fitness, based in The Woodlands, TX, and creator of The Frog total-body trainer. "Therefore, it makes perfect sense for your members to focus on fitness routines that strengthen this part of the body."
It's no surprise that, at that moment, the industry spotlight tends to shine brightly on core training, whether the workouts involve simple bodyweight exercises, accessories, or equipment.
Right now, many fresh, dynamic, and exciting core-equipment are in the pipeline, Bartram points out. "Companies are designing some incredibly cool stuff."
At the same time, many traditional core exercises remain popular and productive.
Basic movements—things such as planks, crunches, and hanging leg raises, for example—are still a mainstay in clubs worldwide. They're relatively simple, but reliable and deliver results. There's also a lengthy lineup of machines and accessories that have proven, over time, to be steadfast and and worthwhile investments. Think ROSU balls, TRX suspension trainers, ab wheels, Roman chairs, Pilates reformers, and certain selectorized and and plate-loaded machines.
The good news is, you have the tried-and-true as well as some new options when it comes to core training. Many leading manufacturers, including, among others, Precor, Inc., and Merrithew, have been adding their own twists to the core equipment category.
So, what's best for your club and your members?
To help you decide, we talked to several fitness professionals and equipment manufacturers—smart people with educated opinions—to help you weigh all the options.
Change It Up
What if your members tend to stick with the core program of their liking? That's not a bad thing: it's proof they're convinced that core training is essential. However, it makes sense to encourage them to try something new for a number of reasons.
"Trainers can easily help clients engage their core muscles in so many new and different ways—perhaps by offering assistance, limiting their range of motion, or helping them to work harder," says Grace DeSimone, a member of the executive council of the American College of Sports Medicine's (ACSM's) Committee on Certification and Registry Board. DeSimone is also the national group fitness director of Optum, a New York City–based health management company. "And introducing a new and different tool can be just the thing to keep them interested, motivated, and coming back to your facility."
Hayley Vanderwall, the field marketing coordinator for Precor, based in Woodinville, WA, agrees. "Clients crave new challenges. New equipment will keep them curious, and it offers the opportunity to foster greater engagement between staff and clients."
Vanderwall acknowledges, however, that established devices still play an important role in clubs.
"Well-known types of equipment have tremendous value," she says. "Members love them. What's really ideal, then, is to offer a spectrum. Have the options members know and love, because this makes them feel confident in the gym setting, but don't hesitate to incorporate new solutions, since this encourages members to aspire to improve."
"Let your decisions be guided by who your clients are—their fitness levels and their interests. Then, do your research," says DeSimone.
Once you've decided what you want, be sure to develop a plan around the equipment you intend to acquire, she continues. "Know where, when, and how you're going to use it. Have a thoughtful marketing and education rollout to make sure your members know what the equipment is and how to use it. Get your staff up to speed. Without them, the fanciest machine will sit in the corner and collect dust. Staff enthusiasm and knowledge lead to increased member engagement and participation."
"Have the options members know and love, because this makes them feel confident in the gym setting, but don't hesitate to incorporate new solutions, since this encourages members to aspire to improve."

Hayley Vanderwall, Field Marketing Coordinator

Precor
Add Appeal
Do you want to try something unique and different to shake things up—something that many members haven't seen before? Well, then, what are your choices?
The Frog total-body trainer is one possibility. It pro- vides the benefits of high-intensity interval training (HIIT) and strength training simultaneously. While its signature "core-killer" exercise may look somewhat intimidating, members can try it independently or one-on-one with a trainer, Bartram points out. "The Frog can also be used in any small or large group training class. It will absolutely stand out from any other offering on your schedule, for sure. That's truly a unique selling point."
Another possibility is Precor's Queenax, the company's newest solution in the functional-training category, or the many fitness frames produced by other manufacturers, including Life Fitness, Escape Fitness, Ltd., and Matrix Fitness.
"Queenax is an inclusive platform that incorporates suspended bodyweight training products and tubing systems, and facilitates bodyweight-focused exercises," Vanderwall explains. "In addition, using other exclusive options, members can strengthen, stabilize, and even perform power-based moves—from battle rope drills, to landmine rotations, to high-speed hanging crunches. Made of a series of beams that can easily be adapted to address each facility's individual needs, Queenax can serve as a personal training station in a private studio, as a small-group training zone, or be featured as the center of a functional fitness zone."
In the field of Pilates, which is nearly synonymous with the regimen's core-training benefits, two leading companies are offering interesting new products and services, as well as established standards.
Now available from Merrithew, the Toronto-based creator of the Stott Pilates brand, is the CORE Athletic Conditioning & Performance Training program for instructors. The curriculum teaches them the fundamentals of core training, and prepares them to teach core- focused workouts using Merrithew's extensive line of core-training tools.
Among them is the Halo Trainer, which was designed to be particularly versatile, so exercises can be modified for specific populations and individuals at various fitness levels. "It's a simple tool, composed of a strong metal frame, coupled with a stability ball," describes Stefania Michas, the company's senior program director for education and a Merrithew master instructor.
For core training, Michas also suggests the V2 Max Reformer and Cadillac, which are larger pieces, as well as the Split Pedal Stability Chair, which, with a smaller footprint, is easy to move and store.
Smaller props, which don't require a large investment, can also be effective, Michas points out. "There's our Flex Band Stability Ball and Fitness Circle, for example. You could use these props in a group fitness setting as a way to gauge interest in core classes before you decide to invest in larger pieces. Of course, all core- training tools, whether large or small, represent a wise purchase, since core training is really the basis for all fitness training."
Balanced Body, based in Sacramento, California, another major provider of Pilates products and services, offers CoreAlign, an apparatus that combines mind/body disciplines with cardio and strength exercise, as well as MOTR, a foam-roller, core-training tool, which provides three levels of resistance.
Finally, as its name implies, The Abs Company, located in Chester, NJ, offers a wide range of items, such as the Ab Coaster, the Ab Solo ball toss machine, the Ab Trainer Club Pro, and the X3S chair- bench combination. Many clubs are incorporating these and other pieces from the firm into what it calls The Core Zone, a space designated specifically for core training.
Score with Core
What if you're still not convinced that it's a good idea to at least investigate the new generation of core-training devices that are now available? DeSimone offers a word of caution: "If yours is the last club in your market to update, and members find that they have to request certain products, it could have a negative impact on utilization and retention."
On the other hand, if you're an early adopter, you'll want to be sure that you're educating your staff and clients on the use of new products, she stresses. "Consider asking vendors to share successful sales models. And think about researching your competitors. Find out what service models and pricing schemes they're utilizing."
A strong core-training program, after all, is not only important to your members. It should be one of the cornerstones of your business model—whatever that might be. As with your members, it can keep your business strong and fit ... and protect it from injury.