5 Woman Leaders Share Advice for Overcoming Challenges in the Fitness Industry
Women have been making strides in the fitness industry, but not without facing challenges along the way. We asked five recipients of IHRSA's Woman Leader Award to share their advice.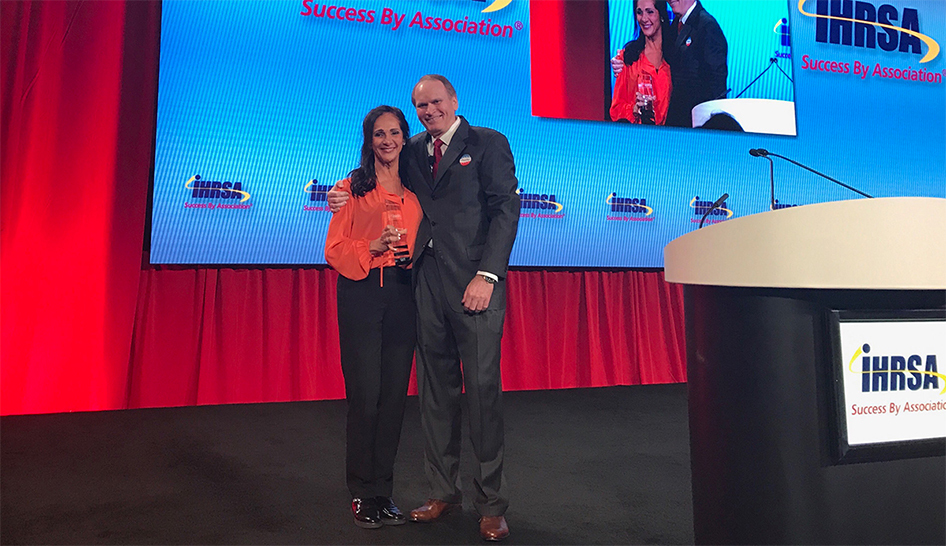 Ellen Latham accepting the Woman Leader Award at IHRSA 2017
Each year, IHRSA recognizes an outstanding fitness industry professional with the Woman Leader Award—an honor that includes a scholarship to attend IHRSA's Annual International Convention & Trade Show.
The award is presented in honor of Julie Main, a woman whose tenacious work ethic and unbreakable spirit was an inspiration to all who knew her. As such, Woman Leader Award recipients are chosen because they exemplify Julie's qualities of leadership and drive.
We asked five past winners what piece of advice they would share with aspiring woman leaders who will encounter challenges in their careers. Here's what they said.
1. Leverage your support system
"Find support and, in moments of doubt, call your support system. Keep focusing on your strengths and what you have to offer."
- Ellen Latham, co-founder and partner of Orangetheory Fitness
(2017 Woman Leader Award recipient)
2. Build your confidence
"You need to choose your confidence. Confidence stands above all other personal attributes. Invest in personal and professional development to help build your confidence. A daily affirmation practiced out loud with positive expression and emotion is an effective way to build your confidence muscles. Your affirmation should begin with 'I am.....' For example, 'I am a dynamic business woman..."
- Maureen Hagan, vice president of program innovation for GoodLife Fitness and canfitpro
(2016 Woman Leader Award recipient)
"Dare to be different and dare to fall. ... This is how you will stand out and keep your colleagues engaged in your path."

Lori Lowell, Co-owner

Lowell Management Company
3. Dare to be different
"As an aspiring woman leader in the fitness industry, a place of leadership is a badge of honor which requires hard work, focus, and a strong voice. It is key that you allow yourself to always find space for something new and trust your judgment."
"Dare to be different and dare to fall. This is how we grow and lead, as well as inspire others to move into roles of leadership. Keep your ears and eyes open and be open to new trends and ideas. Learn and grow from them while keeping your own independence and creative spirit. This is how you will stand out and keep your colleagues engaged in your path."
- Lori Lowell, co-owner of Lowell Management Company
(2015 Woman Leader Award recipient)
4. Focus on helping your clients
"Be passionate about your clients and their needs. Ask yourself: 'How can I serve them better?' Then follow that answer. The success will come."
- Radka Dopitova Willson, M.Ed., M.S., personal trainer at The Bay Club
(2013 Woman Leader Award recipient)
5. Remember that perseverance pays off
"When I met Julie Main, she was one of the first to even mention cancer and exercise in the same sentence. Obviously some things have changed, but my gratitude for Julie has not."
"Don't be afraid to take the road less traveled or create a new one. Some parts of that path may be lonely, or take unexpected turns. Persistence and perseverance do pay off! Interning or volunteering can not only be extremely valuable, it can open doors."
"Look for others who share similar ideas, or are on the same path, with more experience. That's how I met Julie. She served as my mentor for several years, and always had time to help with ideas or challenges I encountered. She also had suggestions of who I might contact with specific needs or questions she couldn't answer. Please tap into the experience of others, and learn from the mistakes they made and are willing to share. You may learn new ways of doing things, avoid the same mistakes, or meet others who can help you attain your goals."
"If you get knocked down—we all do—get up, dust your butt off, and keep forging ahead."
- Jane Clark, Exercise Counselor and Cancer Exercise Trainer with Sunflower Wellness
(2011 Woman Leader Award recipient)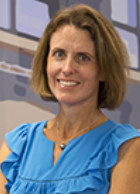 Tara Verity previously served as IHRSA's Senior Service Project Manager—a position that managed the IHRSA Awards Program and the IHRSA Passport Program, and built strong connections with health and fitness facilities worldwide.