IHRSA Report: Worldwide Health Club Membership Now 183M Strong
The fitness industry is on pace to reach 230 million members by 2030, according to the newly released 2019 IHRSA Global Report.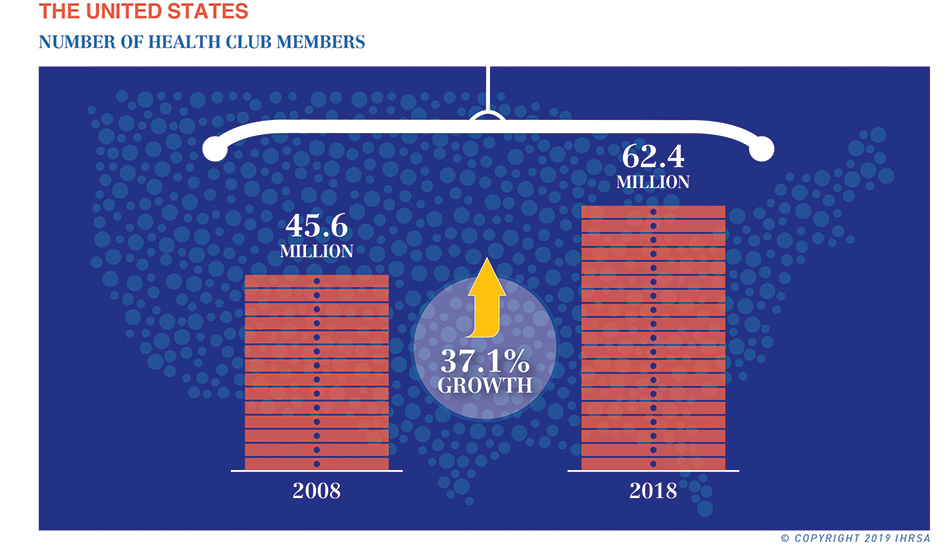 BOSTON, MA—May 30, 2019 —Today, the International Health, Racquet & Sportsclub Association (IHRSA) released The 2019 IHRSA Global Report. According to the publication, global health club industry revenue totaled $94 billion (USD) in 2018, as more than 210,000 clubs served 183 million members. A perennial IHRSA bestseller, The IHRSA Global Report provides a comprehensive overview of the health club industry.
"The IHRSA Global Report details performance indicators for 65 markets worldwide," said Jay Ablondi, IHRSA's executive vice president of global products. "Around the globe, the fitness industry continues to help consumers lead healthier lives as steady growth was recorded in key markets. The industry is on pace with IHRSA's global initiative, announced last year, to reach 230 million health club members worldwide by 2030."
The top 10 markets around the world account for more than two out of three health club members and 71% of total industry revenue. While the U.S. leads all markets in memberships and revenue at 62.5 million and $32.3 billion (USD) respectively, Germany was second in both metrics with 11.1 million members and $6.3 billion (USD). The UK was third in the number of members and revenue at 9.9 million and $6.2 billion (USD), respectively.
Health club performance is also strong in the global economic powers of India and China. Based on data gathered in The IHRSA Greater China Report, the combined revenue from the top 10 cities ranks that region fourth among all global markets at $3.9 billion in annual revenue (USD), while the number of club members ranks it ninth in the world at 4.5 million. The IHRSA Indian Health Club Report ranks that country fifth in market size among Asia-Pacific health club markets at $821 million in annual revenue (USD). The number of health club locations puts it third in the region at 3,813 sites, while the country's two million members rank it fifth among observed markets in the region. Opportunities for growth remain in both markets as well as the Asia-Pacific region as a whole. The member penetration rates for China and India are 2.98% and 0.15%, respectively.
The new report is divided into four parts:
The "Industry Overview" section details the industry's performance in 2018, along with analysis and insights from industry experts and leading club operators.
The "Industry Research" section includes data on revenue, number of facilities, and number of club members for 65 global markets. New this year are updated statistics for 14 Asia-Pacific markets and 20 European markets. For the U.S. market, there is a breakdown of data for the number of health clubs by state and infographic insights for consumer growth and member visits.
The "Company Profiles" section highlights more than 300 leading health club companies from around the world. New for 2019: profiled companies are organized by geographic region.
The "Supplier Profiles" section features a variety of fitness industry suppliers, whose innovative products and services help club operators to be more profitable.
The 2019 IHRSA Global Report is available for $74.95 for IHRSA members, and $149.95 for non-members.
Related research: Additional comprehensive analysis can be found in The IHRSA Latin American Report (Second Edition), sponsored by Hoist Fitness, The State of the Mexican Fitness Industry Report, sponsored by Movement, The IHRSA Asia-Pacific Health Club Report, sponsored by Perfect Gym, The IHRSA Greater China Health Club Report and The IHRSA Indian Health Club Report. Detailed health club consumer demographic and fitness usage information for the United States may be found in The 2018 IHRSA Health Club Consumer Report.
About IHRSA
The International Health, Racquet & Sportsclub Association is a not-for-profit trade association representing health and fitness facilities, gyms, spas, sports clubs and suppliers worldwide. Its mission is to grow, promote and protect the health and fitness industry. As the leading authority on the commercial health club industry, IHRSA regularly conducts primary consumer research and industry economic and operating studies. For more information on IHRSA research, visit our website.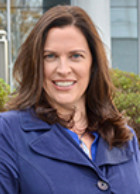 Kristen Walsh previously served as IHRSA's Associate Publisher—a position focused on the creation and distribution of Club Business International, as well as writing and editing articles, newsletters, and research reports.