Thu, October 2, 2014 at 11:27
|
Meredith Poppler
The CEOs in your community have a problem. They are carrying the weight (pun intended) of an unhealthy and inactive workforce on their corporate books. Because of these unhealthy employees, companies are forced to pay higher healthcare costs, face higher workers' comp days and more days lost to presenteeism and absenteeism.
To make the CEO's problem worse, it's not easy to convince employees to adopt healthy behaviors. Yet, while no silver bullet exists, study after study has revealed that employees are more likely to participate in a wellness program if the organization's senior leadership is clearly vested and interested in the success of the program. It's even more compelling if senior leaders outwardly participate in the program.
That's where The CEO Pledge™of the National Coalition for Promoting Physical Activity (NCPPA) comes in. The Pledge was purposely constructed to maximize the influence of senior leadership on the physical activity habits of employees, and to fundamentally transform the modern work environment from sedentary to active.
Have you contacted any of your corporate clients or prospects telling them about the CEO Pledge and asking them to consider signing it?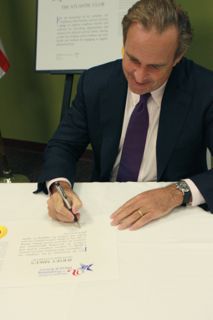 Peter Cancro-CEO/Founder and Owner of Jersey Mike's Subs - with over 850 franchises across the United States - during a Corporate Wellness luncheon held by The Atlantic Club.
The Atlantic Club's goal is to have 40 companies sign the pledge by 12/31/14!
Brent Darden of Telos Fitness Center was an early adopter of the pledge. Here's how he has used it:
We have used the CEO Pledge in our club as a way to connect with current and potential corporations in our area. Through our existing corporate membership accounts, we have found that it is a good excuse to "check-in" with them, and in most cases, congratulate them on their efforts related to health promotion. As corporate members of our club, they have already taken a major step toward supporting the physical activity of their team members, and typically have other wellness initiatives in place. Of course, we also take this opportunity to remind them of the many ways that Telos Fitness Center can assist their goal of improving workplace wellness.
For local companies that we do not have a relationship with, this "cause marketing" campaign can open doors that otherwise may be difficult to breach. Corporate wellness has never been more accepted as a preferred benefit of forward thinking companies, and even those organizations that are not proactive in this regard, realize the need to initiate changes for a healthier workforce.
As chair of the CEO Pledge Committee for NCPPA, IHRSA is proud to lead this initiative and is wholly committed to the goal. We are pleased to announce that just this week, 250 CEOs have signed the CEO Pledge, including CEOs of Fortune 500 companies, major non-profits, national universities, world-class hospitals, manufacturers, service organizations, and innovative small businesses.
Pat Laus, The Atlantic Club
In the coming days, IHRSA will be introducing new resources to help clubs utilize the CEO Pledge. But in the week when the CEO Pledge hit the important milestone of 250 signatures, I thought it was important to bring this initiative directly to the Industry Leadership Council.
Information about the CEO Pledge, including the text of the pledge, recommended implementation strategies, and a list of signees can be found here. You can also sign the pledge online.For more information about how IHRSA members can highlight the CEO Pledge as a corporate wellness tool, please visit here or email IHRSA's Senor Legislative Counsel, Tom Richards.
Sincerely,
Helen
---
Champion for the health club industry. Committed advocate for physical activity, primary prevention, and public policies that promote wellness because it will take more than personal responsibility to get the world active.
tagged
CEO Pledge,
Helen Durkin,
ILC Update
in
Industry Leadership